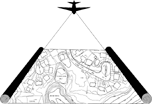 Background
David Smith & Associates, Inc. is a full service photogrammetric mapping company located in Portland, OR. DSA has been in business since 1965 and has extensive experience in aerial surveying and mapping throughout the Northwest.
As a small firm with a single office, DSA is able to provide exceptional quality of work with great emphasis on client service. All photogrammetric data collection and production services are performed in-house. In-house capabilities include: All project setup tasks (flight layout, control layout, project planning), aerotriangulation, analytical and softcopy photogrammetric stereo-data collection, GIS/CAD map file processing, digital image scanning, digital orthophotography and digital image processing. Outside services and subconsultants are used to provide ground control support, color photo lab services, fixed wing aerial photography or other remote sensing data such as helicopter photography or LIDAR data. Our relationships with our aerial photography and survey subconsultants and our consistent staff organization for in-house production tasks allows for exceptional quality control and flexibility to meet client priorities.
Senior staff certifications include one Professional Land Surveyor (Oregon, Washington), one Professional Engineer (Oregon) and three Certified Photogrammetrists (American Society of Photogrammetry and Remote Sensing). All projects are completed under the direct supervision of certified/registered senior staff and all work adheres to the level of professional standards required by those certifications and registrations.
Client service and a personal approach are key objectives. We make every effort to provide a quick turn around for projects, paying particular attention to our client's priorities and schedule. We operate multiple shifts to maximize the production of our analytical stereoplotters, softcopy stereoplotters and CAD workstations. Active project management, organization and scheduling allow us to accommodate tight schedules and meet budgets. These efforts have earned DSA a long list of satisfied clients and a reputation for quality service, meeting tight schedules and working within budget.